A helpful tool for generating training, filming online meetings, or documenting other computer activity is screen recording. Screen recording capabilities that are already included in Windows 10 and Windows 11 make it simple to record your screen. Here is a guide for recording the screen in Windows 10 or Windows 11.
How to Screen Record in Windows 10:
Open the Game Bar: The Game Bar is a feature in Windows 10 that allows you to record your screen. To open it, press the Windows key + G.
Start Recording: To start recording, click the "Record" button or press Windows key + Alt + R.
Stop Recording: To stop recording, click the "Stop" button or press Windows key + Alt + R again.
View Your Recording: The recording will be saved in your "Videos" folder under "Captures."
How to Screen Record in Windows 11:
Open the Snipping Tool: The Snipping Tool is a feature in Windows 11 that allows you to take screenshots and record your screen. To open it, press Windows key + Shift + S.
Start Recording: To start recording, click the "Screen Record" button in the Snipping Tool.
Stop Recording: To stop recording, click the "Stop" button or press Windows key + Shift + S again.
View Your Recording: The recording will be saved in your "Videos" folder under "Captures."
With just a few clicks, Windows 10 and Windows 11 both make it simple to screen record. With these built-in tools, it's simple to record your screen and save it for later use whether you're making a tutorial or capturing an online conference.
A video is worth a million words if a picture is worth a thousand. Screen recording on Windows is a great way to do so, whether you're demonstrating a procedure in an important programme or you just want to show off your gaming skills.
Also Read: How to Take Screenshots in Windows 10 or 11
Screen recording is a built-in feature of the Xbox Game Bar tool in Windows 10 and Windows 11, and utilising it is quite simple even if you wish to record your activity in a non-gaming app. Use another approach, such as OBS for screen recording, if you're doing something more complicated than just capturing one application at a time, as Game Bar has some restrictions, including the fact that it can only screen record one app at a time and not the entire screen.
We'll demonstrate how to record your screen in Windows 10 or Windows 11 using the Xbox Game Bar and OBS in the sections below. See our post on how to take a screenshot in Windows 11 if all you need is a still image.
Record the Windows Screen with Xbox Game Bar
The Xbox Game Bar, which is integrated into both Windows 11 and Windows 10, provides a number of capabilities, such as CPU and GPU monitoring. However, its most advantageous feature is its capacity to record Windows screens and output them in MP4 format.
The Xbox Gme Bar functions just as well in other programmes like Chrome as it does in games, however it can only be used in one programme at once and cannot record the Windows desktop or File Explorer. Therefore, you would need to gather a number of films if you wanted to demonstrate how to use an activity that involved several programmes, such as creating a website in a code editor and then viewing it in a browser. And you can't teach them how to use the Start menu or any other feature of the Windows 11 or 10 user interface. Use a different programme, such as OBS, for those tasks; we'll show you how to screen record with it later in this guide.
1. Click into the app you wish to record.
2. Hit the Windows Key + Alt + R to start screen recording. On the screen, most commonly in a corner, a tiny recording widget that displays the amount of time you've been recording appears. The Xbox Gamebar can also be opened (Windows Key + G) and the capture widget can then be located, but the keyboard shortcut is much quicker.
3. Perform whatever actions you want and use your microphone to record audio. You can also mute the mic if you don't want to capture any sound.
4. Hit the Windows Key + Alt + R again to stop screen recording. You can also use the widget's stop button. You'll receive a notification that reads, "Game clip recorded. If you click on it, the Gamebar app's Gallery section will open, where you may see a preview of the video you shot. The MP4 file you captured is also located in your Videos/Captures folder.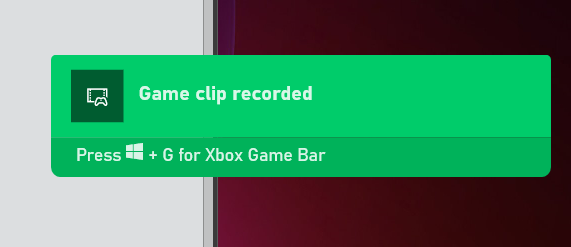 Configuring Xbox Gamebar Screen Recording
While the default settings are probably fine for most people, there are a few options you can change.
1. Navigate to Settings->Gaming->Captures.
2. Change any of the following settings. Note that though they use the word "game," the settings should apply to any app you record whether it's a game or not.
Record what happened (Win 11) / Background Recording (Win 10): this generates a buffer of automatically recorded content for 30 seconds (or more if you adjust the settings). So even if you weren't actively screen recording it, if you were playing a game and just had an incredible kill, you could launch game bar by pressing Windows key + G and store the last 30 seconds. Although this setting has a different name in Windows 11 than it does in 10, the feature remains the same.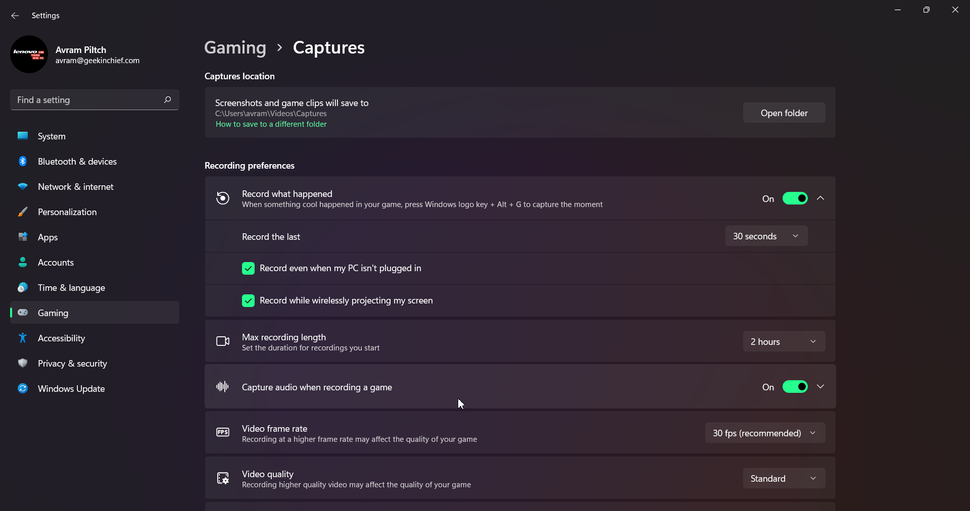 Max recording length: The amount of time after which screen recording will automatically shut off. I recommend leaving this at the default two hours.
Capture audio when recording a game: By default, this only records noises from your microphone and the actual game, leaving out background noise from Windows or other apps. You have the option to completely turn off audio recording, allow it to capture system sounds, or adjust the balance.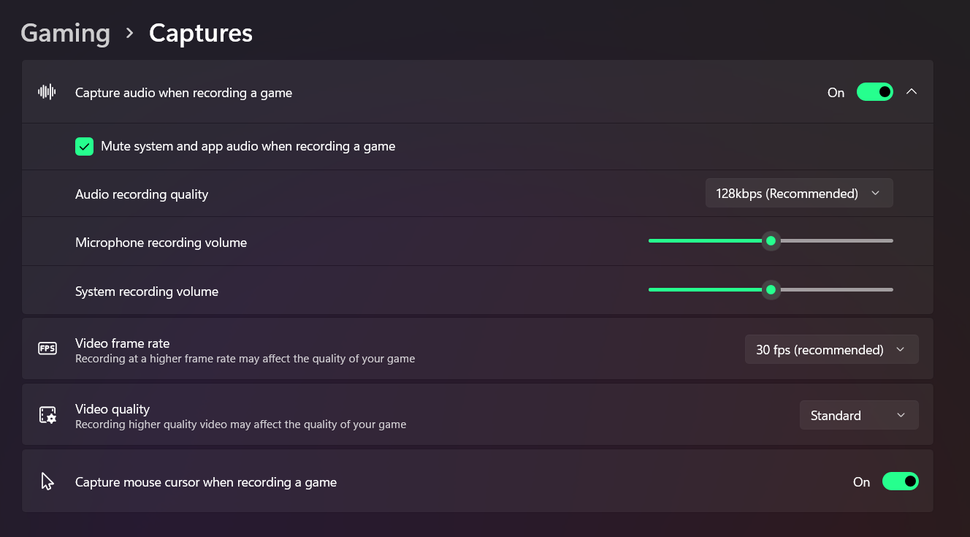 Video frame rate: defaults to 30 fps, but you can change it to 60 fps.
Video quality: choose standard or high.
Capture mouse cursor when recording a game: I recommend leaving this enabled, particularly if you are recording an app that is not a game.
Also Read: Download WhatsApp Installer Setup for Windows 7, 8, 10, 11
Recording the Whole Screen with OBS Studio
The Xbox Gamebar's inability to run more than one app at once and refusal to display the desktop or File Explorer make it the most problematic tool for screen recording Windows. You need a third-party tool to record your entire desktop and every window on it. While there are many options, we recommend OBS Studio for this.
OBS Studio is a favourite among game streamers because it's cost-free and excellent at sending games to Twitch and other websites. Without ever streaming anything you do, you can also use OBS to capture the entire screen on Windows 11 and save it as an MP4 file.
1. Download, install and launch OBS Studio. When you launch OBS for the first time, if you haven't already, you will be asked whether you want to optimize it for streaming or recording only. If you don't plan to stream, choose "Optimize just for recording."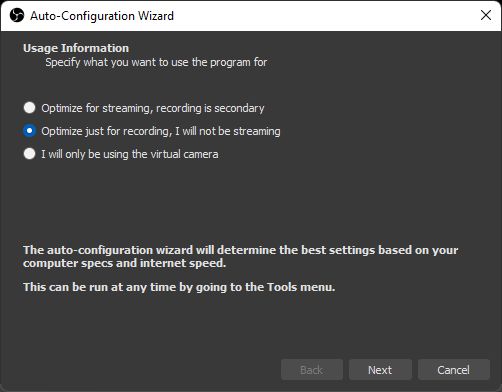 The base resolution (also known as the canvas resolution) and frame rate will also be requested of you. We advise deciding on the screen's resolution before you begin (it may default to 1080p). You won't be capturing the complete screen if you use a screen with a higher resolution than your canvas size.
You can always modify the canvas size again if, like me, you have a multimonitor setup with many screens of varying resolutions.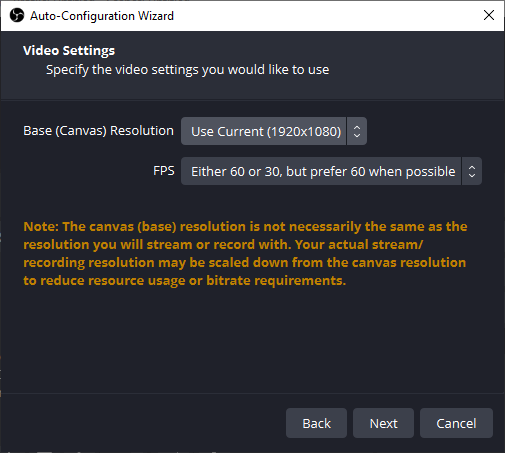 2. Click the Plus icon under Sources to add a new source.

3. Select Display Capture.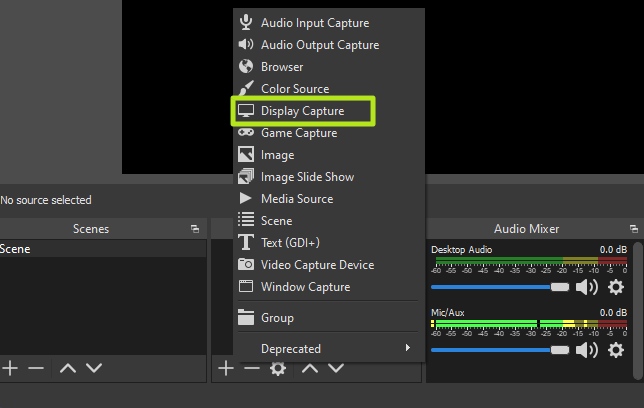 4. Click Ok on the dialog box that pops up. You can give the source a name other than Display Capture if you'd like.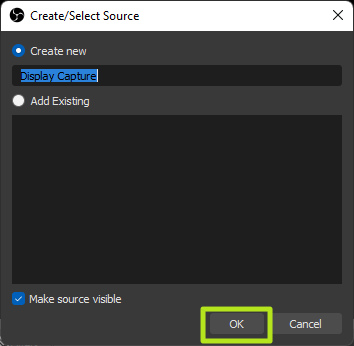 5. Choose a display and click Ok. This would enable you to run OBS on one screen while recording the activities on another if you have more than one monitor. There is only one option if you only have one display.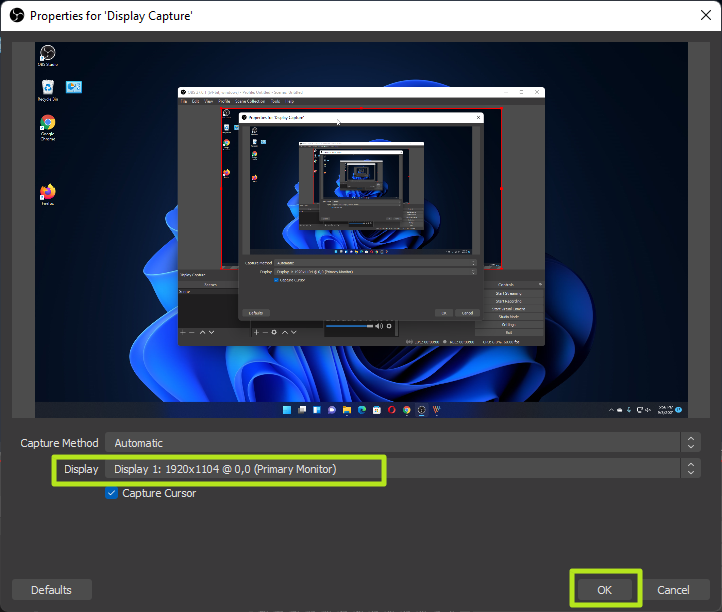 Your capture will be interrupted if the display goes beyond the limits of your OBS canvas, such as when you are capturing a 4K monitor but only have a 1920 x 1080 base resolution. By going to File->Settings->Video and altering the base resolution there, you can solve the issue. Here, you may also change the output resolution. OBS will scale the output down but maintain everything in the frame if the base resolution is larger than the output (for example, a 1080p output of a 4K screen).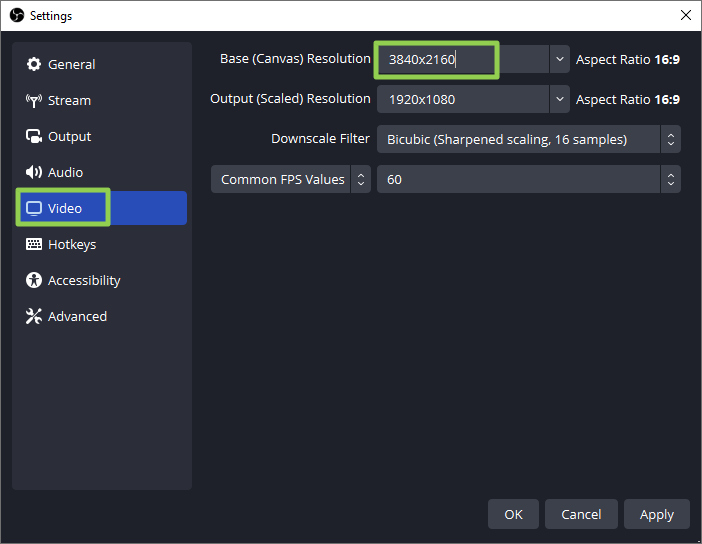 6. Mute the desktop and  / or microphone audio If either or both of those noises are something you don't want recorded. OBS will automatically record audio from all open programmes on your computer as well as from the default audio input device. Simply click the speaker icons in the audio mixer to silence them.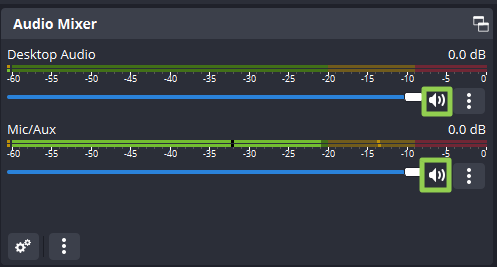 7. Click the Start Recording button at the screen's lower right corner. Keep in mind that any noise you or the computer create will be recorded if the microphone or desktop audio is not muted.

8. Minimize OBS if you are screen recording from the same monitor that OBS is on.
9. Click Stop Recording in OBS when you are finished.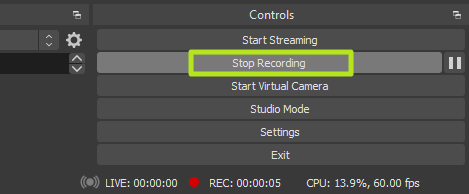 Your screen capture files will by default be saved in the Windows 11 (or 10) Videos folder. They are kept in the.mkv file format by default. By going to OBS's Settings->Output menu, you can, however, change the output to MP4 or MOV files.