Here we will discuss about how to hide post from someone on instagram. Wondering about how to hide the post from someone on Instagram?
If you are someone who wants to keep their posts visible to a few people, this article is for you.
How To Hide The Post From Someone On Instagram Without Blocking It? 
Method 1: Creating a Close Friends List 
One of the coolest features available on Instagram is the Close friend list. When you use this feature, you can share your stories only with selected people. Unfortunately, this feature is not available to hide your posts.
Here is how you can do this,
Visit your profile section on your Instagram by clicking on your profile in the bottom right corner.
Click on the three horizontal lines.
Select the Close friend option from the dropdown.
Now you can select the people that you want to share your private stories with.
Now your friend's list is ready.
If you want to share your story privately, you can select the option close friends.
When you do these steps your story will only be visible to the people who are on your close friend's list.
Note: This method is only two hide your stories but not your posts.
Also Read: How To Share Instagram Profile Link
Method 2: Make Your Account Private
If you don't want to make your post visible to internet people, you can switch your account to private mode and share your content only with your followers.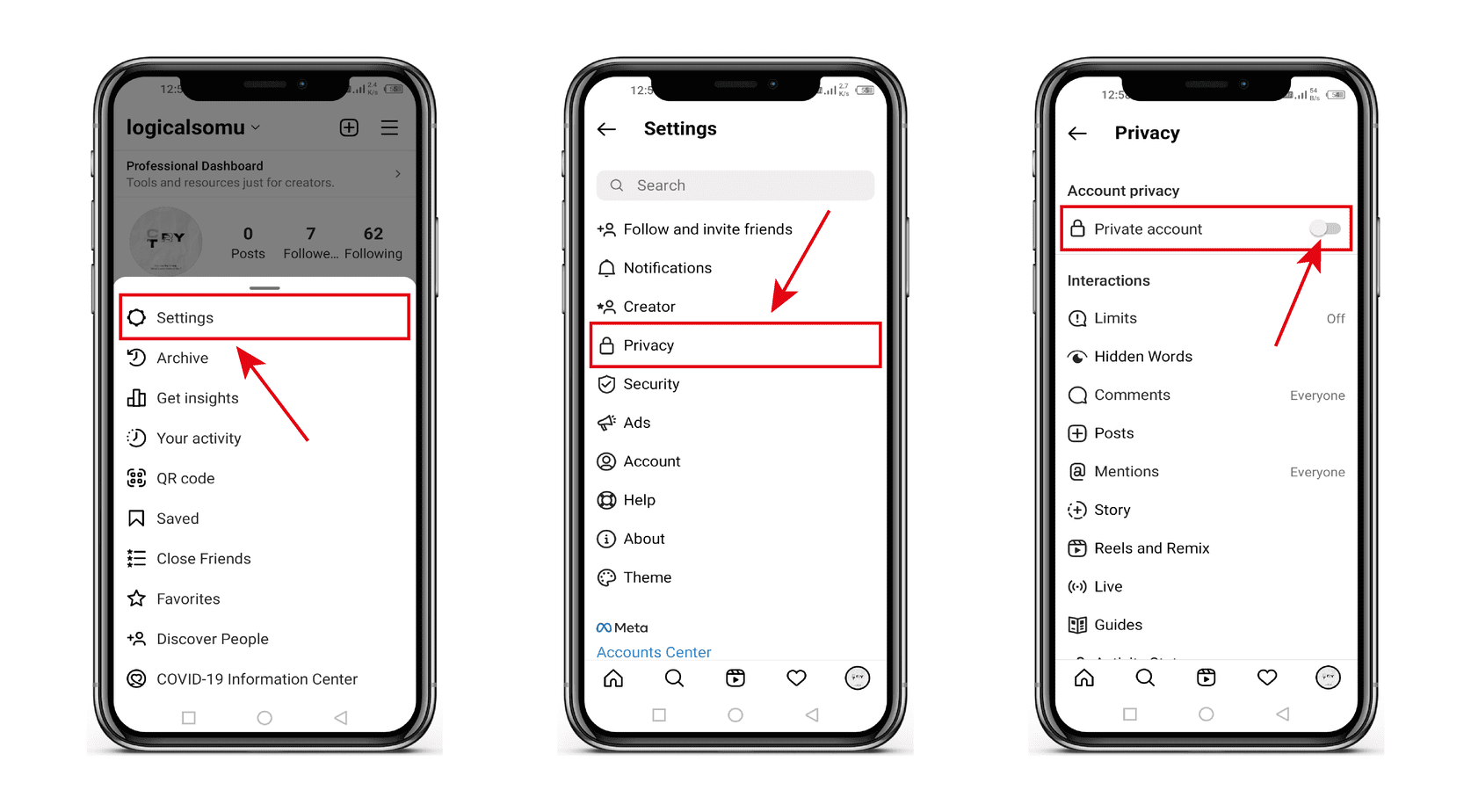 Log in to your Instagram account and go to your profile section.
Tap on the Settings option.
Click on the privacy options available in the dropdown.
Enable the toggle to On mode and switch to a private account.
That's it. Now your account is private and your posts and stories will be visible only to your followers.
To make it more private, add only selected people to your follower list. Alternatively, you can also remove unwanted people from your follower's list to have better privacy.
Also Read: How To Earn Money From Instagram Reels (Get Paid)
Does Restricting On Instagram Hide Posts?
Restricting an account doesn't hide your posts from your followers. Instead, it will restrict the person's messages in your inbox. Their comments on your posts will be visible only to you and the restricted person.
This feature helps you to restrict their activities from your eyes, without blocking them or unfollowing them.
Follow these steps, if you want to restrict someone on Instagram,
Visit the profile section of the user whom you want to restrict.
Tap on the following option on the profile.
Click on the restrict account option.
If you want to unrestrict, just undo the above steps.
We hope now you learned about how to hide a post from someone on Instagram. Let us know in the comment section if it worked for you.
Here's how to mute people on Instagram and enjoy your feed again:
Log in to your Instagram account and open the profile you want to mute.
Under their profile, select the "Following" option. It will be at the top of their profile (under their username and above their posts).
An option that says "Mute" will show, click on it.
You will get the option to mute their posts and stories. Tap the "toggle slider" option. That's all!
However, you can unmute the person anytime by going back through these steps and hitting the toggle again.
Also Read: How To Share Full Reels On Instagram Story
Final Words
When it comes to limiting the visibility of Instagram posts, you don't have any direct option of hiding them from certain followers. But we hope soon Instagram will introduce this feature.
We hope this article on how to hide Instagram posts from particular followers was helpful to you. You can enjoy using this guide to clear your Instagram feed from certain posts and people. Post whatever and whenever you want!