How to hide apps on Android
Hiding your important Android apps will keep them away from curious eyes.
Even without thinking about technology, phones have emerged as one of our most valuable and frequently used items. They not only help us stay in touch with our loved ones, but they also serve as the centre of our financial universe and are where we save vital health information.
Naturally, we lock our devices to prevent others from accessing this private information, but if you frequently allow your kids, partner, or friends to use your phone to look things up or take pictures, there is a chance that this information could be compromised.
Fortunately, there's an easy solution to reduce the likelihood of this happening: hide apps. Here's an easy method for safeguarding your personal data.
Hiding apps via Android settings
Apps can be hidden in several Android versions via the settings menu. However, keep in mind that these elements are constantly changing as newer versions of Android are released and the software interfaces used by manufacturers also evolve. On some of the most well-known Android phone manufacturers, here's how to hide apps.
How to hide apps on a Samsung phone
Swipe up from the bottom of the screen to access the App Drawer, which is the tab that lists all of your installed apps.
Select Settings by tapping the three dots in the top right corner.
From the menu that displays, choose Hide Apps.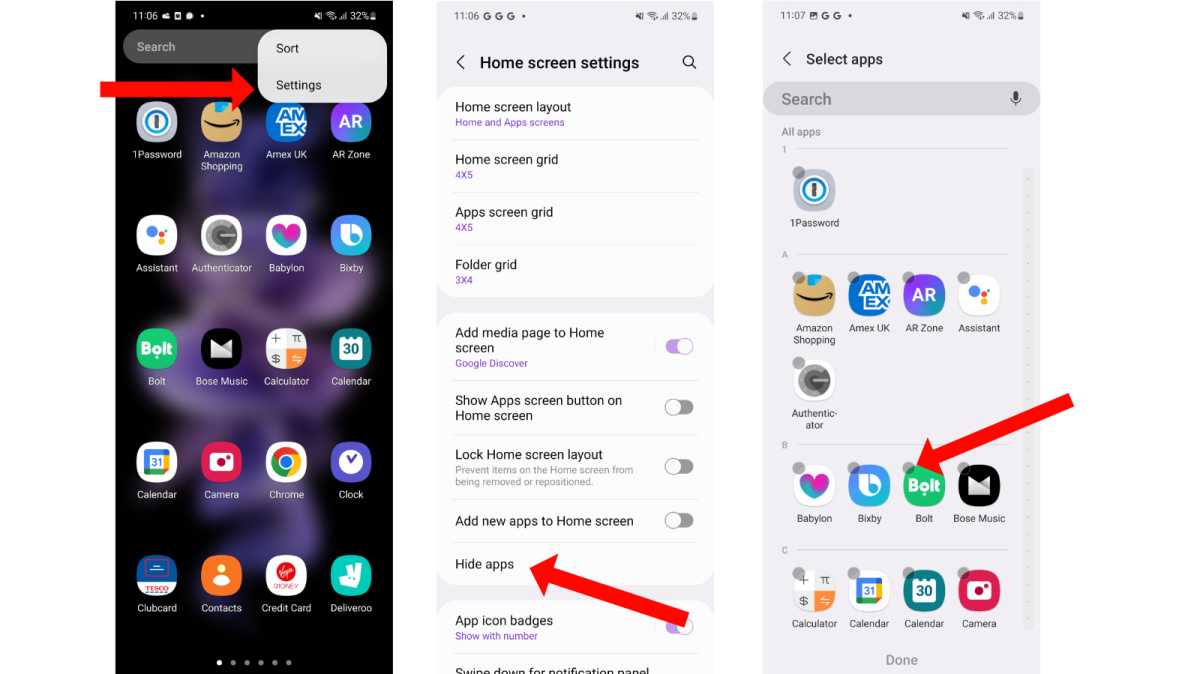 You can browse the list of all your apps and choose the ones you want to hide.
Tap "Done" at the bottom of the page when you're done.
All of the apps you chose won't longer be visible in the app drawer.
Use the Google Search widget (bar) or launch the Google app and type the name of the app to find it. The search results' From Your Apps section will have the app mentioned. It will open normally when you tap it.
Also Read: 5 Reasons to Turn On Android's Developer Mode
How to hide apps on OnePlus phones
Swipe to the right after opening the App Drawer (the tab that displays all of your apps).
Now a page titled Hidden Space will appear. No hidden programmes should be displayed in the screen's centre.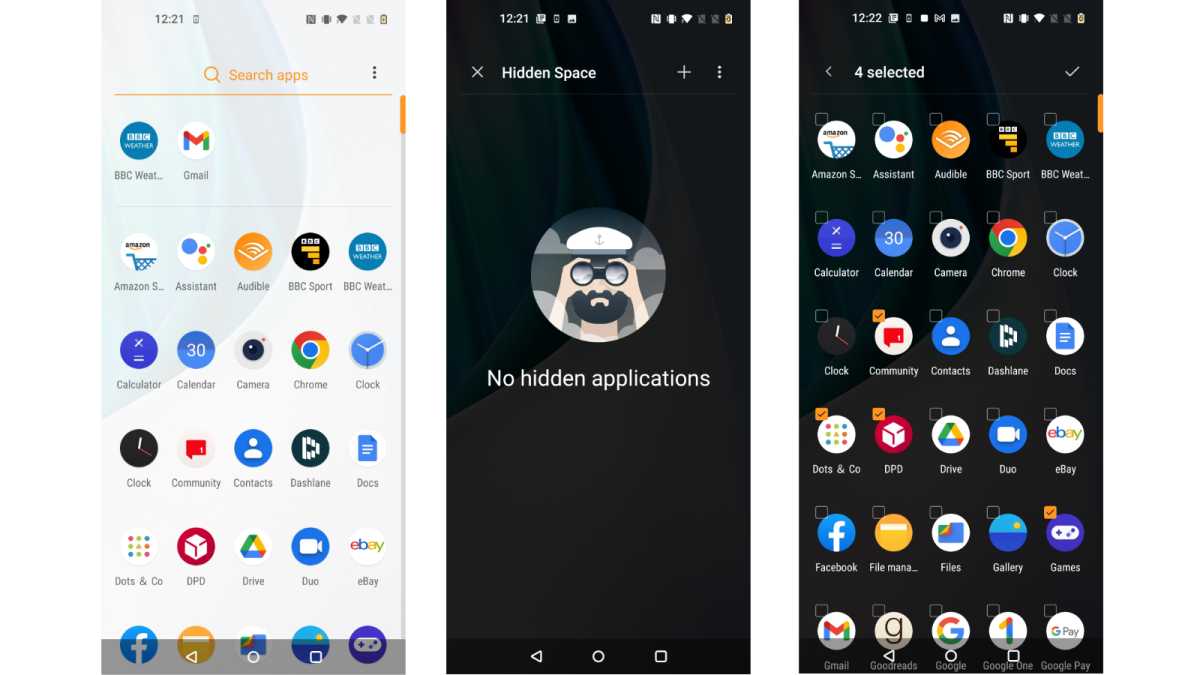 In the top right corner, tap the Plus symbol.
Tap the tick symbol in the top right corner after choosing the apps you want to hide.
The hidden apps are now listed on the Hidden Space page.
Return to the Hidden Space page and long-press the app you wish to reveal to unhide it.
How to hide apps on a Xiaomi phone
Although Xiaomi appears to have discontinued the Hidden Apps function with MIUI 13, App Lock still offers security. Certain apps are password-protected, making it difficult for anyone to open them, and you can even choose to hide any associated notifications. Here's how to configure it.
Navigate to Settings and select Apps.
Then, hit the Turn On button after choosing App Lock.
If you haven't already, you'll need to create a Mi (Xiaomi) account because the feature depends on it. It only takes a few seconds and is free.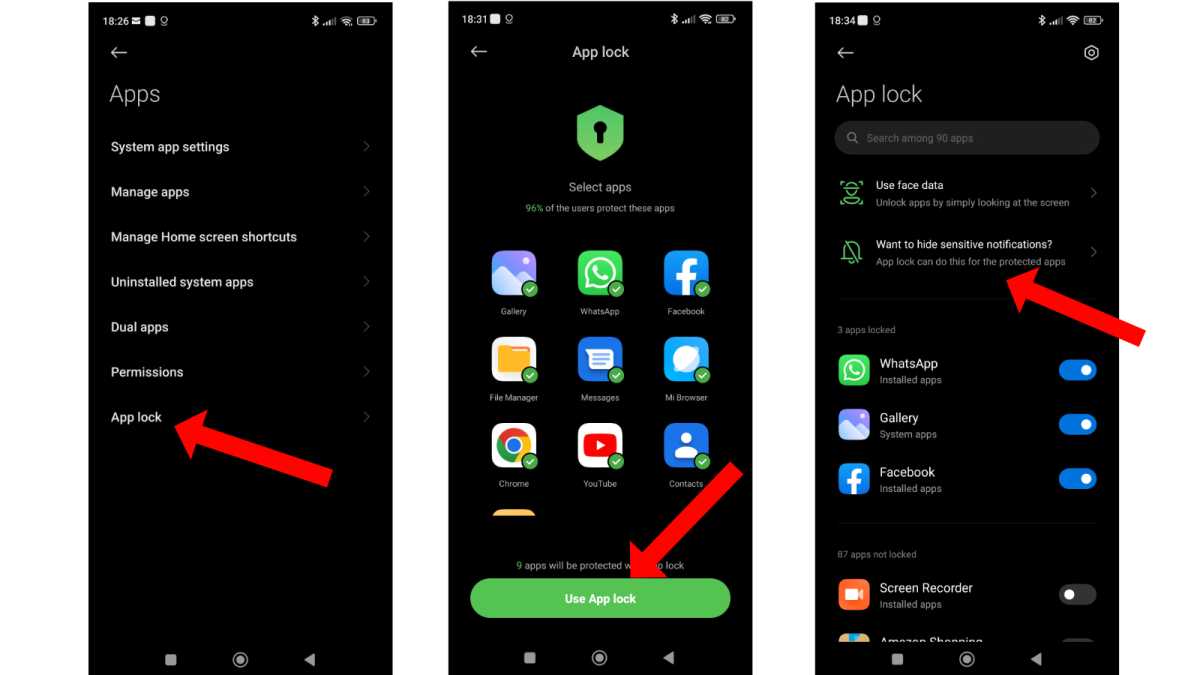 After doing this, you will see the App Lock screen, which includes some recommended apps you may want to secure. Tap Use App Lock after unticking any that you don't want.
Select the apps you wish to lock right now. Each will now display a login screen when someone taps them (you can unlock them with your fingerprint).
Additionally, you can choose to conceal sensitive notifications by selecting the "Want to hide sensitive notfications?" option.
Simply go back to the App Lock screen and deselect the apps you want to unlock.
Also Read: 20 BEST Call Recording Apps for Android (2023)
How to hide apps on Android with a new launcher
If Android's settings do not allow you to hide apps, another alternative is to utilise a different launcher, which will give you more control over how the interface functions. One of our all-time favourite launchers is Nova since it gives you so many options for customising your device's interface.
You can swiftly organise those rogue programmes once you've downloaded and installed Nova launcher (others are also available that offer comparable functionality).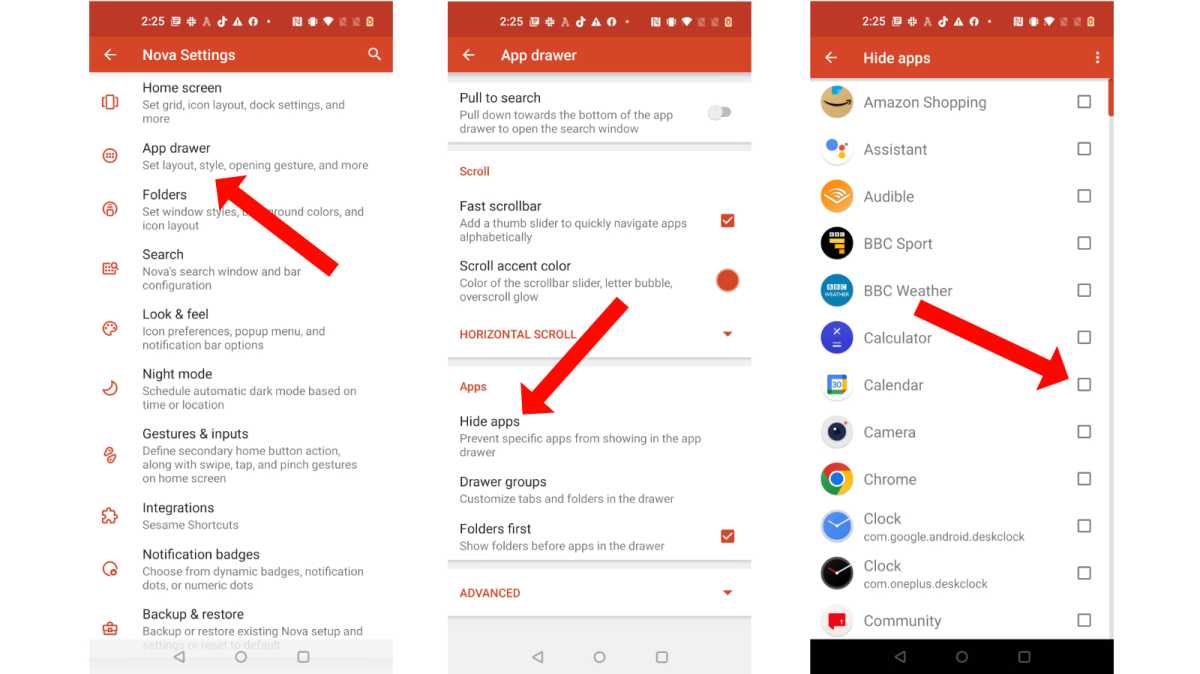 Open Nova, then tap the icon for Nova Settings.
Select the App Drawer menu item.
Select Hide apps once you've located the Apps area by scrolling down.
When you've decided which apps to hide, touch the back arrow in the top left corner of the screen.
I'm done now. Your app drawer should no longer display the apps. Simply repeat the previous steps while deselecting the app to restore them.
How to disable apps on Android
If you're unable to remove pre-installed programmes or simply don't want them to operate in the background at any time, your last resort may be to disable them. Although not all apps or Android UI versions will support this, it is still worth a shot.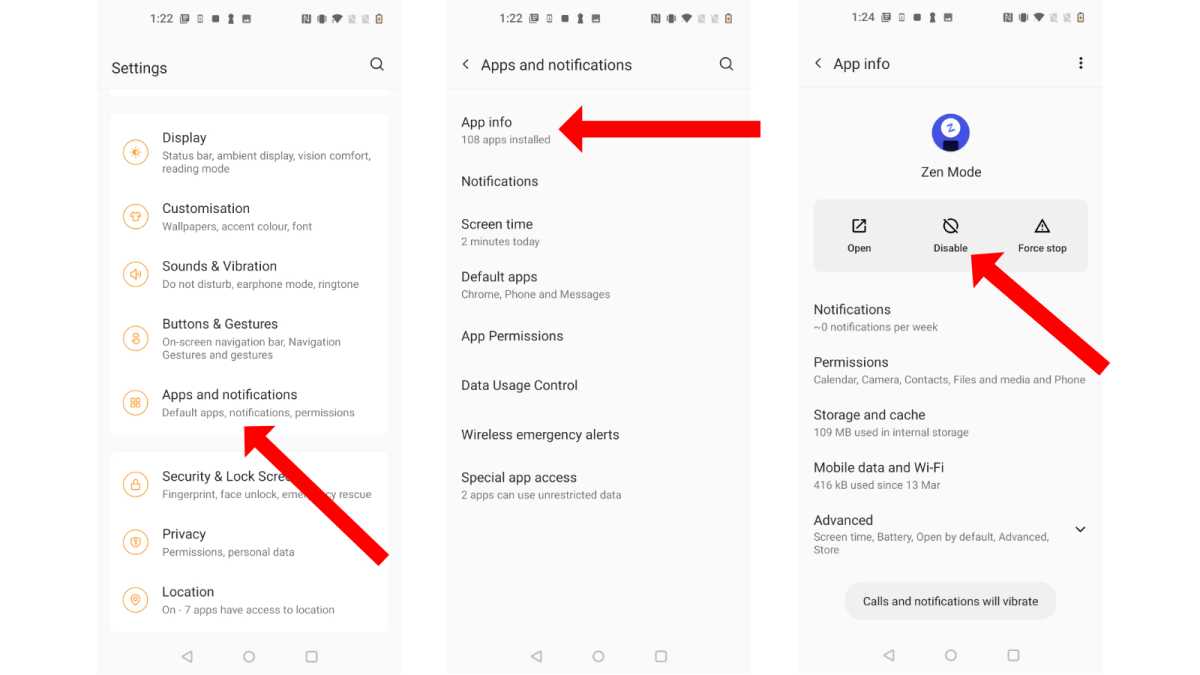 Launch Settings.
Select the app you wish to uninstall by tapping Apps and notifications.
Choose Disable if the option is available.
Now, assuming all goes according to plan, the app won't show up in your App Drawer or at the very least won't launch on its own. Repeat the previous steps, but this time choose Enable, to restore its permissions.
Here are a few alternative methods for concealing apps on your Android phone. See our lists of the top antivirus programmes and cloud storage providers for additional suggestions on how to keep your device safe.
How to Hide Apps on Android: A Step-by-Step Guide
Do you have any private Android applications on your device? Hide applications can be a terrific method to keep your personal and business lives apart, regardless of whether you want to. A step-by-step tutorial on how to hide apps on Android smartphones is provided in this post.
Step 1: Use a Launching App
Using a launching app is one of the simplest and most direct ways to hide apps on Android. App launches serve as a covert home screen that gives you secret access to your hidden apps. Nova Launcher, Apex Launcher, and Smart Launcher 5 are a few well-known launchers.
Step 2: Create a Folder
Making a folder is an additional method for Android app hiding. Long-press the app icon you wish to conceal and move it to another app to accomplish this. You can name the folder you make in this way whatever you choose. Once the folder has several apps, you may make it invisible by moving it to a hidden location on your home screen or merging it with another folder.
Step 3: Hide Apps Using App Hider
You can use an app hider to better securely and privately hide apps on Android. You can protect your apps with a password or pattern lock using app hider apps, making it more difficult for others to access them. App Hider, Hide App – Hide Application Icon, and Calculator Vault are a few of the most well-known app hiders.
Step 4: Hide Apps Using a Third-Party Launcher
Using a third-party launcher is another way to hide apps on Android. Some launchers include built-in methods for hiding apps, including Microsoft Launcher and Pixel Launcher. Simply locate the option for concealing apps in your launcher settings and utilise that to implement this strategy. The feature might need to be enabled first, but once it is, you can easily hide apps from your home screen with a few touches.
Step 5: Use a File Manager
You can conceal programmes using a file management app that is installed on your Android device. Simply launch your file manager programme and go to the folder containing the app you want to hide to accomplish this. The app file should then have a "." (dot) added before the name. Rename the app file, for instance, to ".app.apk," if it is now called "app.apk." The app won't appear on your home screen anymore, but you can still access it by using your file management software and going to the folder where the programme is located.
Conclusion
You can keep your personal and business lives apart by hiding apps on Android. The procedure is easy and clear whether you decide to use a launcher app, make a folder, use an app hider, use a third-party launcher, or use a file manager. Try these techniques to hide your apps from curious eyes.